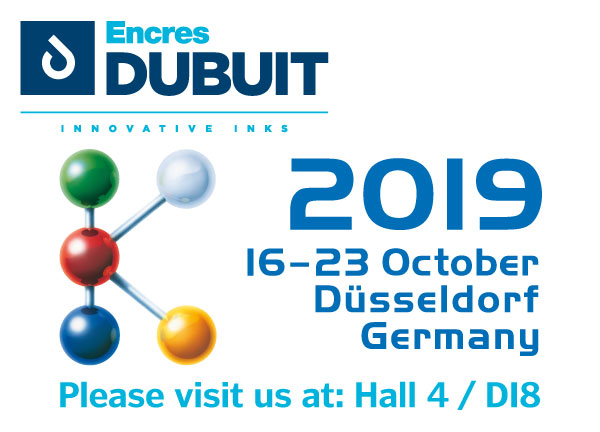 ENCRES DUBUIT – K SHOW 2019
Encres DUBUIT exhibits at K Show from 16 to 23 October 2019: Hall 4 D18
Encres DUBUIT will launch its solutions for direct printing on plastics at the K show:
Low migration UV screen printing ink: EvoPlus-LM
Pad Printing inks in solvent-based for untreated polypropylene: PPMono-PAD
UV LED Digital ink NO CMR and compliant with toy regulations: EvoJet 1710
Encres DUBUIT is aware of the growing demand for products that comply with the strictest regulations for users and consumers. Encres DUBUIT develops its inks to match the accurate European regulations.
EvoPLus-LM
The EvoPlus-LM series is a low-migration UV screen-printing ink for direct printing on plastic.
PPMono-PAD
The PPMono-PAD series is a pad printing ink solvent based one component designed to be printed on untreated polypropylene such as small appliances.
EvoJet 1710
The EvoJet 1710 is a UV LED digital ink, classified NO CMR according to the current regulations and meets the requirements of Directive 2009:48/E (Annex II, Part III: Chemical Properties) relating to the safety of toys.
Encres DUBUIT solutions are available worldwide through its distributors and subsidiaries:
Encres DUBIUT – France
Tintas DUBUIT  – Spain
Publivenor – Belgium
DUBUIT America – USA
DUBUIT Inks Shanghai – China
Encres DUBUIT expands its solutions for direct printing on plastic in screen printing, pad printing and digital.
HALL 4 STAND D18