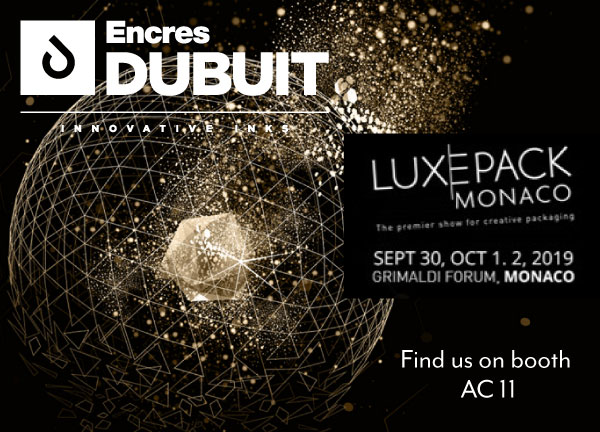 LUXE PACK MONACO 2019
Encres DUBUIT at Luxe Pack 2019
For the first time Encres DUBUIT exhibits at Luxe Pack Monaco 2019 from the 30th September to 2sd October in Digital Village (AC Booth 11).
Luxe Pack is a very important show for the Group. Packaging & Cosmetics are the core markets of the Group since its creation.  Well known in this industry, Encres DUBUIT presents its solution in security, traceability and printed electronics.
Security – traceability
Security ink has three levels:
Overt: visible with the eye
Covert: visible with a tool
Forensic: dedicated DNA, analyzed by a lab.
Encres DUBUIT Group can provide solutions in screen printing, pad printing and digital UV LED.
Printed electronics
With its partnership with a French start up making conductive inks with nanoparticles, Encres DUBUIT offers solutions to print very thin deposit. With that type of inks, your devices are lighter and thinner.
Encres DUBUIT keep launching new products and innovative inks with security ink and conductive inks.
Discover Encres DUBUIT's solutions at Luxe Pack Monaco (AC Booth 11)